PCG Tools is a free PC software application for Korg (c) Music workstations/synthesizers. The application is capable of handling mainly PCG files. These files are used for programs, combis and set lists, global information and more.
PCG Tools is mostly a librarian, but it also has some editor functions.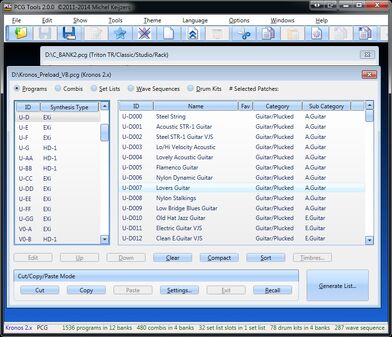 PCG Tools can be downloaded for free at: http://pcgtools.mkspace.nl
It supports a variety of Korg workstations/synthesizers, like Korg Kronos, Kross, Krome, Oasys, M3, M50, all Tritons, Trinity, Karma, microKORG, MS2000, M1, M3R, T1, T2, T3 and Z1.
Community content is available under
CC-BY-SA
unless otherwise noted.